Discussion Starter
•
#1
•
REVIEW: TAMARACK ATV CLASSIC FRONT BOX
As always the customer service at
Tamarack ATV
is top notch. The shipping fast, accurate and it was well packaged.
<div align=center">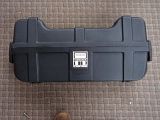 </div>
I have a little over 300 miles of use now with the
Tamarack ATV
Classic Regular front box. This is a very nice box for those who do not need a full size style trunk type of box. The 1.5 cubic feet of storage seems to be ample enough for the necessary gear for a days ride. For those who prefer not to use a box on the front you can use the box on the rear rack just as easily. If you are concerned about the box obstructing vision you can be relieved to know that I did not have any issues especially while negotiating some extreme rocky sections of trail.
<div align=center">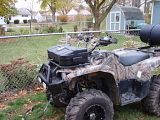 </div>
The
Tamarack ATV
front box is constructed of ultra-durable high density polyethylene which will not crack, warp, or dent under extreme temperatures. When I first removed it from its packaging it felt well built. The box has heavy duty hinges that are black powder coated to prevent rusting as well as durable latch closures. Upon opening the
Tamarack
box I found it to be a very tight fit between the upper and lower half of its clamshell design. This I feel is critical to any hinge style box, cause if water can get in it will. I feel confident that this box will keep the water out. As a matter of fact after washing my Grizzly off I did not find a bit of moisture inside the
Tamarack
box.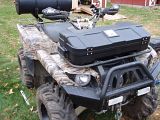 Mounting is very easy and can be accomplished in a short amount of time with the included u-bolts. My recommendation is to remove whichever rack you plan on mounting it on, index the box to be centered with the rack and drill your holes. Or if you want a non-permanent solution you can opt to use the two handle tabs on the side and bungee strap it to the front or rear rack. This is a feature which may be discontinued do to the fact most people prefer to hard mount it. I really liked the bungee option as it let me move the box into a secure location after my ride. And easily detach it for cleaning or access the battery compartment of the 700 Grizzly. But for those who prefer a more permanent mount you can feel safe to know that the latching hasps are lockable.
<div align=center">
</div>
The optional foam kit is also great in keeping your gear from bouncing around in the box and is especially useful in keeping the more fragile equipment like cameras and other video gear from being damaged.
<div align=center">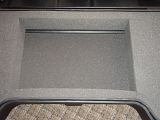 </div>
For those of you who want a storage box to keep your gear dust free and dry check out the Tamarack ATV Regular Front Box. Its slim aerodynamic design will prevent snagging from tree branches and the dual mounting options make this box a very versatile system for the enthusiast who wishes to pack some extra gear for a more comfortable days ride.
Pros
Durable design.
Stylish and streamlined.
Optional mounting solutions.
Provisions for locking it.
Water and dust proof.
Cons